Welcome to peace plaza
Aspiring for true peace and tranquility and celebrating diversity and heritage, the Keeling-Puri Peace Plaza is located in Rockford, Illinois. It is easily accessible from I90 (Riverside Exit) west one-half mile to McFarland Road and south one quarter mile. The Peace Plaza is situated in a 2.5 acre park which also serves as a trailhead for Rockford's 20 mile Perryville Path network of bicycle and recreational trails with an easy link to Rock Cut State Park located three miles north of the Peace Plaza.
Where Do We Find Peace?

"If we are to have real peace in the world, we must begin with the children." Mahatma Gandhi. We look to the children of the greater Rockford region to inspire us all to participate fully in the quest for enduring world peace. The Keeling Puri Peace Plaza is dedicated to support the young leaders of the Rockford Region as they work to create sustainable change. Our children have partnered with organizations such as Pennies for Peace , World Bicycle Relief, Kids Around the World, New Global Citizens and UNICEF finding local solutions to global and local problems.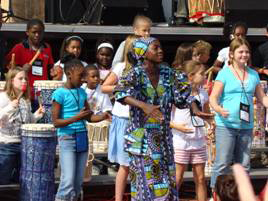 2021 VIRTUAL
International day of peace
The International Day of Peace at the Peace Plaza in Rockford has been celebrated for
18 y
ears as a one-day event for 700 4th and 5th grade area students each September. The Corona Virus provided a challenge to the
2020 and 2021 (our 19th year) celebrations
. With the help of all of the regular Peace Day storytellers, musicians, and artists along with WTVO
, Rockford University,
and loyal area partners we are pleased to share
2021
Virtual International Day of Peace
.
Area schools, as well as schools around the country, will participate in the free program offerings which will go live in mid-September and continue through the end of 2121. Teachers and parents can choose from 30 different offerings at times convenient for them and their students. While we focused programming on 4th and 5th graders all children and adults will find presentations of interest.
It's Easy - It's Here – all are invited to use this link to
View the Virtual International Day of Peace
Programming Outline.